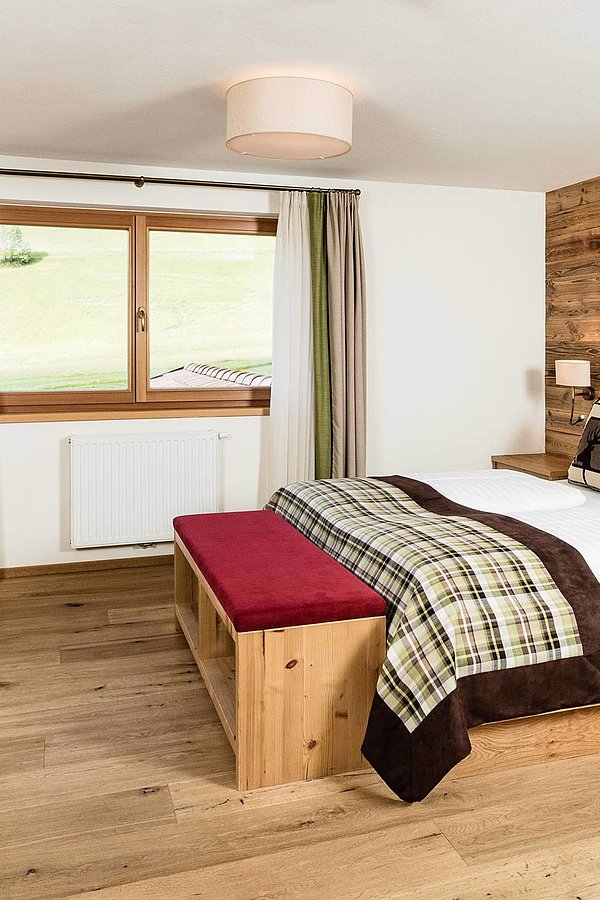 Rajeta+
for 2 - 4 people

A shining gem that recalls the brightness of the mythical jewel set in the crown of the Fanes princess. A bright and welcoming room, ideal for couples or families. This spacious room is dominated by warm colours, modern and defined lines, and a renewed design.

With its approx. 34 m² the room is ideal for 2 to 4 people. The 3rd and 4th person stays in an extra bed such as a sofa bed. The Rajeta plus room is equipped with a 42" TV, private bathroom with shower, toilet, bidet, hairdryer, telephone, safe, minibar, free WIFI, parquet flooring, private balcony with table and chairs.


Check out the room via VIRTUAL TOUR.

(The illustrations are schematic only, variations are possible).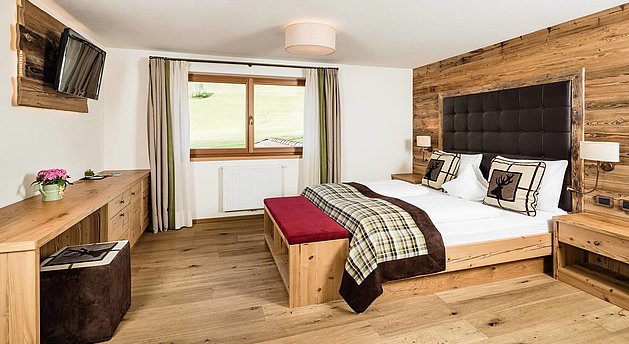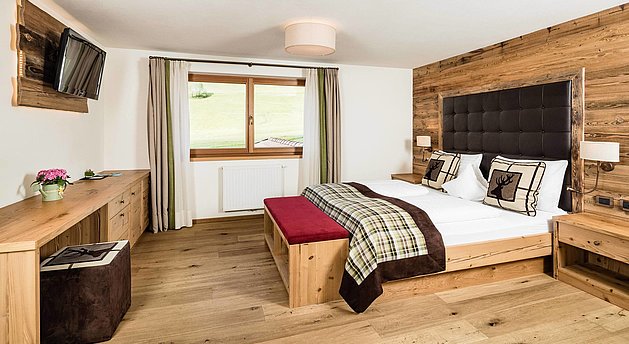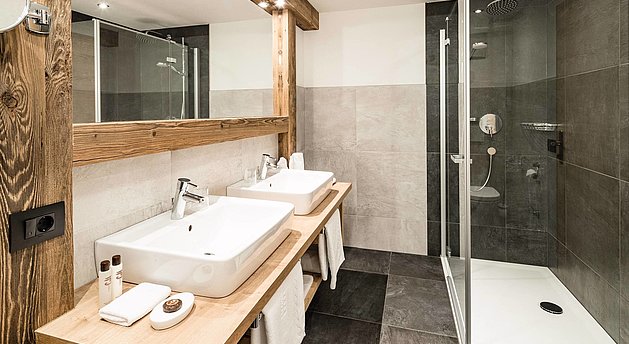 Current price list
The prices are per person and day in 3/4 wellness board
Winter prices
02.12.2022 - 23.12.2022
165 - 175 €
23.12.2022 - 26.12.2022
215 €
26.12.2022 - 07.01.2023
290 €
07.01.2023 - 21.01.2023
180 - 190 €
21.01.2023 - 04.02.2023
190 - 200 €
04.02.2023 - 04.03.2023
210 - 220 €
04.03.2023 - 18.03.2023
175 - 185 €
18.03.2023 - 11.04.2023
175 - 185 €
Current price list
The prices are per person and day in 3/4 wellness board
Winter prices
02.12.2022 - 23.12.2022
145 - 155 €
23.12.2022 - 26.12.2022
205 €
26.12.2022 - 07.01.2023
280 €
07.01.2023 - 21.01.2023
165 - 175 €
21.01.2023 - 04.02.2023
180 - 190 €
04.02.2023 - 04.03.2023
190 - 200 €
04.03.2023 - 18.03.2023
165 - 175 €
18.03.2023 - 11.04.2023
165 - 175 €
Current price list
The prices are per person and day in 3/4 wellness board
Winter prices
02.12.2022 - 23.12.2022
160 - 170 €
23.12.2022 - 26.12.2022
210 €
26.12.2022 - 07.01.2023
285 €
07.01.2023 - 21.01.2023
175 - 185 €
21.01.2023 - 04.02.2023
185 - 195 €
04.02.2023 - 04.03.2023
205 - 215 €
04.03.2023 - 18.03.2023
170 - 180 €
18.03.2023 - 11.04.2023
170 - 180 €
Current price list
The prices are per person and day in 3/4 wellness board
Winter prices
02.12.2022 - 23.12.2022
160 - 170 €
23.12.2022 - 26.12.2022
210 €
26.12.2022 - 07.01.2023
285 €
07.01.2023 - 21.02.2023
175 - 185 €
21.01.2023 - 04.02.2023
185 - 195 €
04.02.2023 - 04.03.2023
205 - 215 €
04.03.2023 - 18.03.2023
170 - 180 €
18.03.2023 - 11.04.2023
170 - 180 €
Current price list
The prices are per person and day in 3/4 wellness board
Winter prices
02.12.2022 - 23.12.2022
175 - 185 €
23.12.2022 - 26.12.2022
230 €
26.12.2022 - 07.01.2022*
305 €
07.01.22 - 21.01.23
180 - 200 €
21.01.22 - 04.02.23
195 - 215 €
04.02.23 - 04.03.23
215 - 235 €
04.03.23 - 18.03.23
175 - 195 €
18.03.23 - 11.04.23
185 - 195 €
Current price list
The prices are per person and day in 3/4 wellness board
Winter prices
02.12.2022 - 23.12.2022
170 - 180 €
23.12.2022 - 26.12.2022
225 €
26.12.2022 - 07.01.2023
300 €
07.01.2023 - 21.01.2023
185 - 195 €
21.01.2023 - 04.02.2023
195 - 205 €
04.02.2023 - 04.03.2023
215 - 225 €
04.03.2023 - 18.03.2023
180 - 190 €
18.03.2023 - 11.04.2023
180 - 190 €
Current price list
The prices are per person and day in 3/4 wellness board
Winter prices
02.12.2022 - 23.12.2022
180 - 190 €
23.12.2022 - 26.12.2022
250 €
26.12.2022 - 07.01.2023
325 €
07.01.2023 - 21.01.2023
195 - 205 €
21.01.2023 - 04.02.2023
215 - 225 €
04.02.2023 - 04.03.2023
235 - 245 €
04.03.2023 - 18.03.2023
190 - 200 €
18.03.2023 - 11.04.2023
190 - 200 €
Current price list
The prices are per person and day in 3/4 wellness board
Winter prices
02.12.2022 - 23.12.2022
210 - 220 €
23.12.2022 - 26.12.2022
280 €
26.12.2022 - 07.01.2023
355 €
07.01.2023 - 21.01.2023
225 - 235 €
21.01.2023 - 04.02.2023
250 - 260 €
04.02.2023 - 04.03.2023
270 - 280 €
04.03.2023 - 18.03.2023
220 - 230 €
18.03.2023 - 11.04.2023
220 - 230 €
Best price guarantee
Book directly - benefits guaranteed