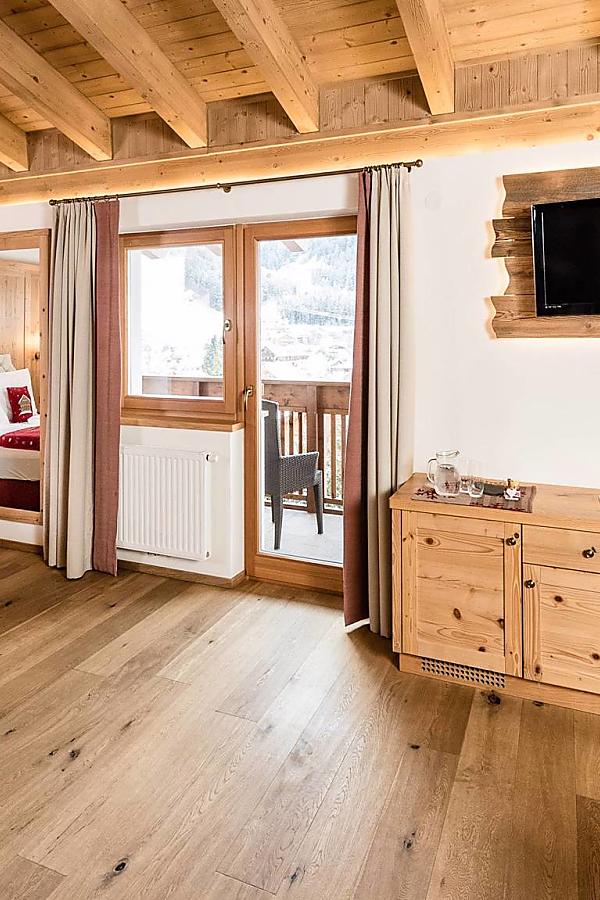 Belvita Suite 205
for 2 - 4 people

A unique environment in its style, just like this room is unique. A single Belvita Suite 205, which encloses in a single room the ideal atmosphere for a romantic stay. From the private balcony you can enjoy a wonderful view of the magical Dolomites, which frame our beautiful village of San Vigilio di Marebbe.

With its approx. 45 m² the Belvita Suite is ideal for 2 to 4 people. The 3rd and 4th person stays in an extra bed such as a sofa bed. The Suite is equipped with a 55" TV, private bathroom with hydromassage tub, bidet, separate toilet, hairdryer, telephone, safe, minibar, free WIFI, parquet flooring, private balcony with table and chairs.


Check out the room via VIRTUAL TOUR.

(The illustrations are schematic only, variations are possible).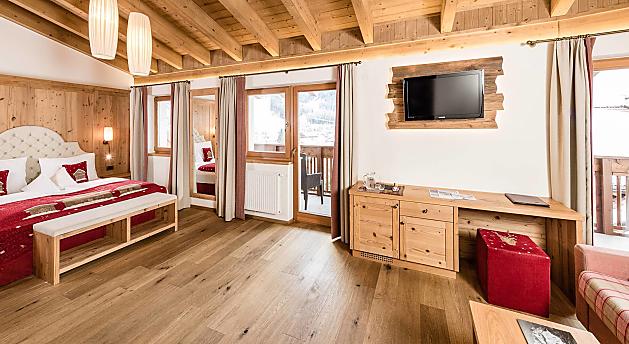 Current price list
The prices are per person and day in 3/4 wellness board
Winter prices
02.12.2023 - 22.12.2023
170 - 180 €
22.12.2023 - 26.12.2023
225 €
26.12.2023 - 06.01.2024
300 €
06.01.2024 - 20.01.2024
180 - 200 €
20.01.2024 - 03.02.2024
190 - 210 €
03.02.2024 - 02.03.2024
210 - 230 €
02.03.2024 - 23.03.2024
175 - 195 €
23.03.2024 - 07.04.2024
190- 200 €
Current price list
The prices are per person and day in 3/4 wellness board
Winter prices
02.12.2023 - 22.12.2023
150 - 160 €
22.12.2023 - 26.12.2023
210 €
26.12.2023 - 06.01.2024
285 €
06.01.2024 - 20.01.2024
160 - 180 €
20.01.2024 - 03.02.2024
170 - 190 €
03.02.2024 - 02.03.2024
190 - 210 €
02.03.2024 - 23.03.2024
155 - 175 €
23.03.2024 - 07.04.2024
170 - 180 €
Current price list
The prices are per person and day in 3/4 wellness board
Winter prices
02.12.2023 - 22.12.2023
160 - 170 €
22.12.2023 - 26.12.2023
215 €
26.12.2023 - 06.01.2024
295 €
06.01.2024 - 20.01.2024
170- 190 €
20.01.2024 - 03.02.2024
180 - 200 €
03.02.2024 - 02.03.2024
200 - 220 €
02.03.2024 - 23.03.2024
165 - 185 €
23.03.2024 - 07.04.2024
180 - 190 €
Current price list
The prices are per person and day in 3/4 wellness board
Winter prices
02.12.2023 - 22.12.2023
160 - 170 €
22.12.2023 - 26.12.2023
215 €
26.12.2023 - 06.01.2024
295 €
06.01.2024 - 20.01.2024
170- 190 €
20.01.2024 - 03.02.2024
180 - 200 €
03.02.2024 - 02.03.2024
200 - 220 €
02.03.2024 - 23.03.2024
165 - 185 €
23.03.2024 - 07.04.2024
180 - 190 €
Current price list
The prices are per person and day in 3/4 wellness board
Winter prices
02.12.2023 - 22.12.2023
180 - 190 €
22.12.2023 - 26.12.2023
235 €
26.12.2023 - 06.01.2024
320 €
06.01.2024 - 20.01.2024
190 - 210 €
20.01.2024 - 03.02.2024
200 - 220 €
03.02.2024 - 02.03.2024
220 - 240 €
02.03.2024 - 23.03.2024
185 - 205 €
23.03.2024 - 07.04.2024
200 - 210 €
Current price list
The prices are per person and day in 3/4 wellness board
Winter prices
02.12.2023 - 22.12.2023
175 - 185 €
22.12.2023 - 26.12.2023
230 €
26.12.2023 - 06.01.2024
310 €
06.01.2024 - 20.01.2024
185 - 205 €
20.01.2024 - 03.02.2024
195 - 215 €
03.02.2024 - 02.03.2024
215 - 235 €
02.03.2024 - 23.03.2024
180 - 200 €
23.03.2024 - 07.04.2024
195 - 205 €
Current price list
The prices are per person and day in 3/4 wellness board
Winter prices
02.12.2023 - 22.12.2023
190 - 200 €
22.12.2023 - 26.12.2023
250 €
26.12.2023 - 06.01.2024
330 €
06.01.2024 - 20.01.2024
200 - 220 €
20.01.2024 - 03.02.2024
210 - 230 €
03.02.2024 - 02.03.2024
230 - 250 €
02.03.2024 - 23.03.2024
195 - 215 €
23.03.2024 - 07.04.2024
210 - 220 €
Current price list
The prices are per person and day in 3/4 wellness board
Winter prices
02.12.2023 - 22.12.2023
230 - 240 €
22.12.2023 - 26.12.2023
280 €
26.12.2023 - 06.01.2024
360 €
06.01.2024 - 20.01.2024
240 - 260 €
20.01.2024 - 03.02.2024
250 - 270 €
03.02.2024 - 02.03.2024
260 - 280 €
02.03.2024 - 23.03.2024
210 - 230 €
23.03.2024 - 07.04.2024
225 - 235 €
Current price list
The prices are per person and day in 3/4 wellness board
Winter prices
02.12.2023 - 22.12.2023
175 - 185 €
22.12.2023 - 26.12.2023
230 €
26.12.2023 - 06.01.2024
310 €
06.01.2024 - 20.01.2024
185 - 205 €
20.01.2024 - 03.02.2024
195 - 215 €
03.02.2024 - 02.03.2024
215 - 235 €
02.03.2024 - 23.03.2024
180 - 200 €
23.03.2024 - 07.04.2024
195 - 205 €
Current price list
The prices are per person and day in 3/4 wellness board
Winter prices
02.12.2023 - 22.12.2023
190 - 200 €
22.12.2023 - 26.12.2023
250 €
26.12.2023 - 06.01.2024
330 €
06.01.2024 - 20.01.2024
200 - 220 €
20.01.2024 - 03.02.2024
210 - 230 €
03.02.2024 - 02.03.2024
230 - 250 €
02.03.2024 - 23.03.2024
195 - 215 €
23.03.2024 - 07.04.2024
210 - 220 €
Current price list
The prices are per person and day in 3/4 wellness board
Winter prices
02.12.2023 - 22.12.2023
190 - 200 €
22.12.2023 - 26.12.2023
250 €
26.12.2023 - 06.01.2024
330 €
06.01.2024 - 20.01.2024
200 - 220 €
20.01.2024 - 03.02.2024
210 - 230 €
03.02.2024 - 02.03.2024
230 - 250 €
02.03.2024 - 23.03.2024
195 - 215 €
23.03.2024 - 07.04.2024
210 - 220 €
Best price guarantee
Book directly - benefits guaranteed