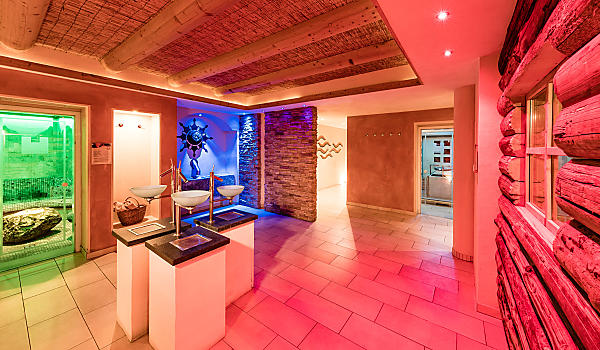 Belvita Leading Wellnesshotels Südtirol
Our Almhof Hotel Call **** S is a member of the Belvita Leading Wellnesshotels Südtirol. Discover the philosophy of this cooperation.
Belvita – We make dreams come true
The Belvita Leading Wellnesshotels Südtirol stand for beauty, physical and spiritual exercise, and integral wellbeing. Our philosophy consists of the four pillars Wellfeeling, Beauty, Fitness and Vitale Cuisine. Our main goal is to communicate to our guests their personal responsibility for their health in order to improve their quality of life.

Wellfeeling – be at one with yourself
Mind, body and soul in perfect harmony. Enjoy relaxation to the full. Leave your everyday life behind with our hotels' variety-packed pampering programme. Enjoy the silence and tranquillity of cosy corners, the comforting warmth in the sauna and inspiring views of captivating nature.

Beauty – you're in good hands
Our traditional treatments using herbs and pure natural active ingredients are real bliss. We will get you into top shape again. Our highly qualified staff knows exactly where their special touch is needed. Exclusive cosmetic treatments, high quality care products and complementary healing and relaxing therapies contribute to your stay being a fountain of youth.

Fitness – exercise as a zest for life
South Tyrol is an ideal holiday destination during all seasons. The magic of variety really exists. In winter and in summer, in spring and in autumn ... the choice is yours.

Vitale Cuisine – creative, traditional cuisine
Wellbeing stems from the stomach. This fact provides the basis for our Belvita uisine: fresh ingredients, the best of quality and creatively prepared regional and Mediterranean dishes. Light and agreeable, without having to miss out on the culinary delights. Always aiming for integral wellbeing.
For any further information, visit the website
Quality – Belvita is quality in all areas
This is what the Belvita quality standards stand for. Anonymous checks, which are performed on a regular basis, guarantee our guests holidays of the highest standard.

Belvita stands for the finest in wellness and the best of care in all areas. This is guaranteed through anonymous and independent quality checks, which are performed on a regular basis. Only those members who comply with these strict quality criteria remain members of the cooperation. Our guests can therefore be assured that Belvita offers what it promises.
* Experience beautiful 4-star superior and 5-star hotels in a quiet location and in close contact with nature with first-class furnishings in all areas.
* Each of the hotels puts a clear emphasis on wellness, which can be felt through the integral "Belvita Atmosphere of Wellbeing".
* The hotels offer a spacious wellness area with all offers like attractive pools, saunas, beauty treatments, massages and baths, fitness and gymnastic area and relaxation areas.
* Cosy bathrobes and slippers are at your disposal in the spacious wellbeing rooms and suites.
* All treatments in the Belvita Hotels include quality products and professionally trained employees.
* Keep fit with exercise programmes like Nordic walking, jogging and Yoga, with specially trained professional wellness trainers.
* Enjoy a great start to the day with the vast Belvita breakfast. In the evening you will be spoiled with a combination of South Tyrolean and Mediterranean cuisine with a 5-course gourmet menu or Belvita vitality menu.
* The host families are personally in charge of the hotel management. Genuine hospitality and custom-made service are a top priority.


GSUND Belvita Treatment
The unique wellbeing treatment by Belvita

Pure South Tyrolean products. Local medicinal herbs and essences, oils and the active agents they contain, are used in connection with natural South Tyrolean Alpine spring water.

Medicinal herbs known from herbology like St. John's Wort, night-candle, alpine rose, arnica and mountain pine, develop their health and beauty stimulating effect during this agreeable treatment.

The GSUND Belvita Treatment has been realised in cooperation with the South Tyrolean business Piroche Cosmètiques, and is made up of various massage and pack techniques, which integrate the whole body and start off with a comfortable and stimulating foot bath. Feet and legs are especially spoiled during the relaxing GSUND Belvita Treatment.
The reason is their importance for the overall health condition and the fact that guests of the Belvita Leading Wellnesshotels Südtirol mainly spend their holidays skiing, hiking, climbing, cycling, golfing, and with other activities.

GSUND Belvita Treatment
and its products of the Rosalpina & alpine herbs line summarised:
Agreeable foot bath
Aromatic bath with Swiss stone pine, mountain pine, sage and thyme
Stimulating hand and arm massage
Hand fluid with alpine rose, arnica and night-candle
Vitalising foot peeling
Body scrub with alpine rose, Swiss tone pine, mallow and marigold
Revitalising body massage
Massage oil with alpine rose, St. John's Wort, night-candle and Swiss stone pine
Face and décolleté massage
Body lotion with alpine rose, St. John's Wort and night-candle
Moisturising body pack
Body mask with St. John's Wort, nightcandle and Swiss stone pine

Great perspectives
Belvita Wellness Voucher and Belvita Fidelity Card

Belvita Wellness Voucher
Give wellbeing!
Surprise your friends or family with wellness and wellbeing in one of the 27 Belvita Leading Wellnesshotels Südtirol. Simply personalise the voucher online at www.belvita.it, pay by credit card or bank transfer and download your voucher!
You can choose a value for the voucher (minimum of € 100.00).
The lucky person who receives the voucher can choose the period of stay and the preferred hotel.

Belvita Fidelity Card
Fidelity is remunerated!
In order to offer special advantages to faithful Belvita guests, the Belvita Fidelity Card is free! With the Belvita Fidelity Card regular guests can collect points for reductions on their stay or for special arrangements.
Further information available online on www.belvita.it.

Belvita – hand in hand with Nature
We at Belvita highly value the pristine nature of South Tyrol, and it is for this reason that our philosophy revolves around a policy of sustainable economics with the aim of
treating the resources of nature with respect.

We believe it is vital to invest in the tourism sector for the future of South Tyrol. However it is also imperative to maintain the social and ecological balance while doing this. Tourism, unlike any other sector, depends on an attractive and varied landscape, and is thus directly affected by climate change. Therefore it is important to achieve the right balance between economic performance, and ecological and social responsibility.

Our key areas are:
* reasonable energy and water consumption
* ecologically sensitive cleaning
* the sustainable purchase of goods
* the use of environmentally friendly beauty products
* social responsibility
Our aim at Belvita is to be a role model in the area of sustainable economics, and we continue to break new ground in environmental protection

Your seal of quality
A tailor-made Belvita holiday
Besides select quality, first-class wellness and exquisite dining, every single Belvita Leading Wellnesshotel Südtirol is distinguished by special features that will make your dream holiday come true. You spend a top quality carefree holiday
surrounded by magical unspoilt countryside in South Tyrol's most beautiful regions.
So that you can instantly see which of our hotels meets your personal requirements best, you can find special icons on
each page with the hotel details that tell you straight away which holiday home is the right one for you. These icons
stand for tested quality in that area and are your guarantee for an all-round successful stay!

Almhof Hotel Call is specialized in : Mountain active
Mountain peaks within your reach. Belvita Mountain Active Hotels are situated perfectly for mountain adventures and
besides fantastic views also offer you an unbeatable activity service: guided tours,
free equipment hire, special conditions for lifts and much more.
Other Belvita Hotel specialisations:

romantic – you & me
You and me on course for romance. At the Romantic You & Me Hotels the focus is on you and your partner.
You enjoy an intimate time together with everything that the heart desires: tempting gourmet creations, a private
spa, secluded retreats for two and extremely romantic moments.

premium SPA
On cloud nine. Deep relaxation and an all-round feel-good factor are the beall and end-all at Belvita Premium Spa
Hotels. Spacious spa landscapes with saunas, chill out areas and various pools, first-class cosmetic products and
highly qualified beauty therapists ensure real wellness highlights.

gourmet cuisine
An experience for the taste buds. All your senses are indulged at the Belvita Gourmet Cuisine Hotels – the
exquisite dishes look like a culinary work of art, their fragrance hints at the high quality ingredients and your taste buds
delight in a combination of Alpine and Mediterranean components.