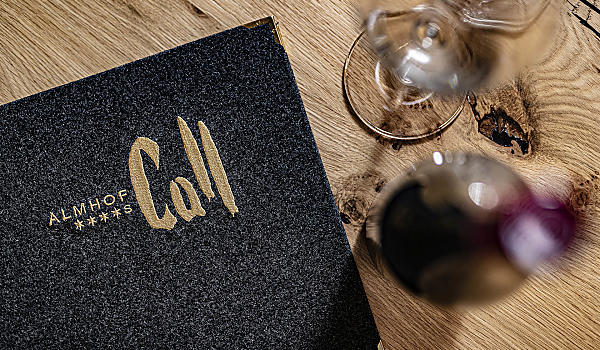 Exquisite cuisine
A Reinterpretation of South Tyrolean Cuisine
If you want to spoil yourself on holiday, you cannot leave out good food. And our chef at Almhof knows this all too well. He is passionate about creating original dishes in the kitchen and he cannot resist to unveil his culinary secrets to our delighted guests.
Our cuisine incorporates antique recipes into a modern way of cooking and uses local produce from Alto Adige. Our catering team is capable of offering a varied menú that includes international, mediterranean and Alto-adesian cuisine. All meals are accompanied by a vast selection of wine, including the well known red wine Lagrein.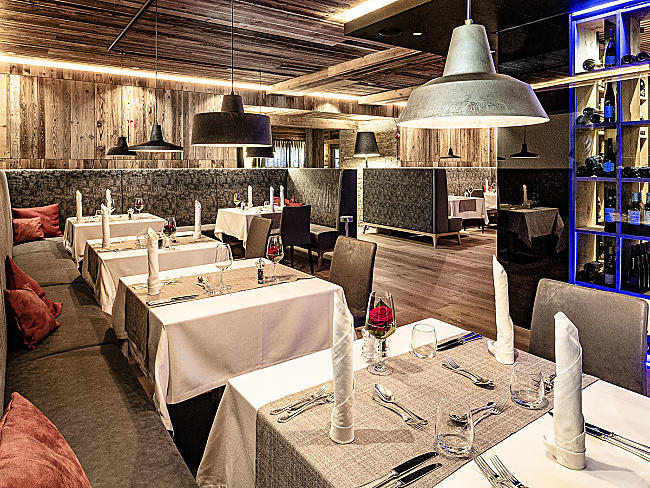 3/4 board Almhof Call
Culinary temptations...all day long
Rich breakfast buffet is served with fresh fruit, and natural products from our Dolomite valleys as well as from our own produce. Organic products can be found in the organic corner.
From 14.00 to 18.00 o´clock all of our guests can help themselves at our afternoon buffet with home made cake, salads, fresh fruit, juices and soft drinks.
In the evening a 5 course dinner awaits you with a buffet with vegetables, cooked and raw salads.
All of our meals are prepared by our prizewinning catering team, that cooks in compliance with the Cucina Vital International combined with our local specialities. We use local products as well as natural food. Our cuisine is also suitable to the needs of vegetarians, celiacs and other dietary requirements can be catered for. If you were to encounter dishes that are not to your liking, it is always possible to have an alternative upon request.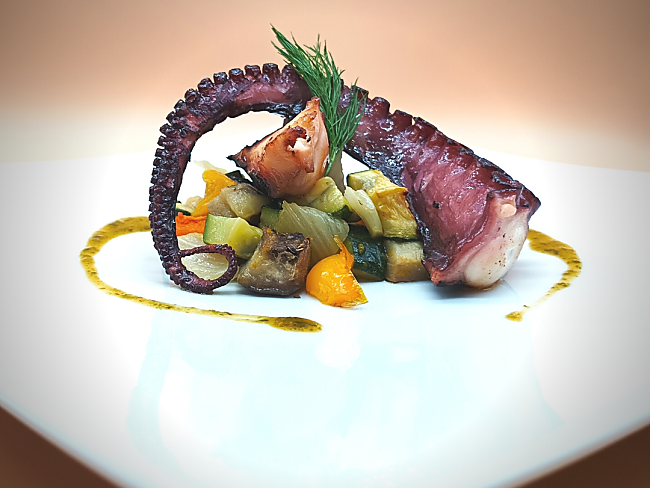 Gourmet
A feast for all senses...
With this motto, our chef at Almhof is going to transform the dining experience into something magical, by preparing fantastic specialties made on the spot using international and mediterranian recipes. At the same time we like to give life to old recipes that have been passed on from generation to generation since antique times. We know how to excite the most fine palates with aromatic herbs from the garden, tender meet from local farmers and healthy products that come from the Alto Adige and that are rich in vital substances.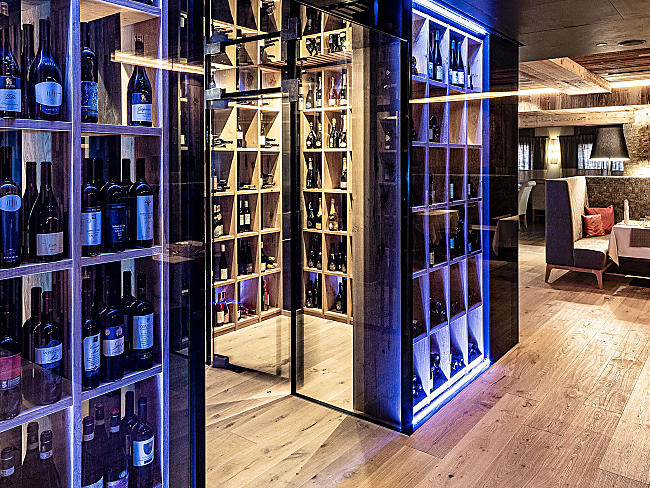 Our wine cellar
Wellness also means a good glass of wine
The Almhof wine cellar, the so-called "Cianea dai Vins" has some of the best rosé and read wines from all regions of Italy, France, Spain and other countries with a total of over 450 labels. Young and old treasures originating from the best wine-producing areas in the world.
A good meal does not exist withour a good glass of wine! Our wine list features a carefully selected wine range, including classic and rare kinds of wine that will give joy to any wine lover.
Our wine list