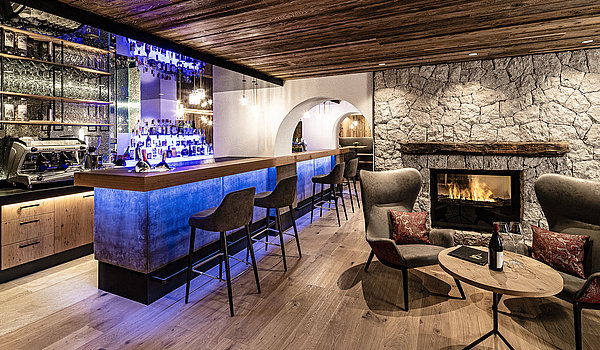 Good to know
Check-in
Your room is available from 2 p.m onwards. Please contact us telephonically if you are planning on arriving after 6 p.m.
Non-smoking-rooms
All of our rooms are non-smoking areas. It is against Italian law to smoke on the hotel premises. Thank you for your understanding.
Check-Out
Please free your room on your departure day by 10 a.m., so that it can be prepared for the next arrival on time. You´re very welcome to remain in the hotel for the rest of the day or relax in our wellness-center (supplementary fee € 30).
Esternal guests
It is possible to invite friends and family for dinner at the hotel. For more information, availability and prices, please contact our hotel reception.
Access to the wellness center BelSana (sauna center, swimming pool and gym), participation at all events organized by Almhof Call, hire of any equipment, and the hire of a BMW test motorcycle is reserved only for our hotel guests. External guests are not allowed to use these services (even for a fee, as a former house guest, or when friends / associates stay at the hotel).
Dogs
We kindly remind you that dogs are very welcome in some types of rooms in our structure under the condition that they are well behaved, do not bark and do not disturb other guests. Please bear in mind that dogs are not allowed to enter the wellness area, the swimming pool and the restaurant. Furthermore, a small daily charge is applied for the extra cleaning costs (already included in the quote) and if necessary, a small final fee for a deep cleansing of the room may be charged.
Requests for specific room or room numbers
We would like to inform our guests that we cannot guarantee a specific room/suite number , a specific floor or a specific room (only the type of room that you booked), but we will do our best to accommodate your requests in this regard.
Weekend Reservations
Reservations for a weekend can only be made on short notice - one week in advance.
Single occupancy in a double room
A surcharge up to 100% will be charged if you book a double as a single room. Please contact our reservation desk to check availability.
Bed and breakfast
If you prefer to have accommodation only, with breakfast, € 15 per person/day will be deducted from the official price list. There will be no reduction for dinners that have not been canceled on time. Also, there will be no price reduction for non-consumed meals such as breakfast or the afternoon buffet.
Room rates
All prices include a ¾ board (breakfast, afternoon buffet, dinner and all amenities of our hotel) per person per day.
New Year's Gala Dinner
Surcharge of € 90 per adult and € 45 per child up to 12 years old. The Gala dinner includes a big aperitif, gala dinner and live music with dancing party.
Reservations
Your reservation is effective and binding from the moment we receive an advanced payment of € 500-1.000 per room per week stay.( 250-500 € for a single room):
Raiffeisenkasse Val Badia, Agentur St. Vigil,
IBAN: IT 90M0801058550000305002460, SWIFTBIC: RZSBIT21508
or with credit card or debit card via onine smart pay (we accept VISA or Mastercard).
Or
you can send us your credit or debit card details as guarantee (we accept VISA or Mastercard).
Important information:
Every once in a while, unexpected events can occur before or during a holiday. In case of late arrival or early departure, the total cost of the booking will be charged. Appointments for beauty treatments in our wellness area that are not cancelled at least 24 hours in advance, will be charged 100% of the treatment cost.

For the moment, we are applying the following cancellation policy:
Free cancellation for different or private reasons until 4 weeks before arrival. The prepayment cannot be refunded but will be valid for another reservation with us.
Free cancellation in case of new lockdown, border closing so that you cannot reach our hotel. The prepayment can be refunded or be valid for another reservation with us.
Free cancellation if you have the cancellation insurance HOGAST
Cancellation cover also in case of COVID-19 disease despite pandemic status COVID-19 is still classified as an epidemic or pandemic. However, for already booked trips insured by us and new conclusions of our insurance policies from October 7 until further notice, we do not apply the pandemic exclusion for cancellation and travel interruption cases contained in our insurance terms and conditions. Insofar, we grant cover in the event that you, as the insured customer, cannot start or have to interrupt the travel,
• because you suffer from COVID-19 symptoms,
• because you have been found to have an elevated temperature measured, even if a later test result is negative,
• because you were tested positive for COVID-19 without showing symptoms, • because a close relative (*) or a person living in the same household has contracted COVID-19 and your urgent presence is required,
• because a close relative (*) in the same household has contracted COVID-19 and you must therefore be quarantined,
• because you are unable to travel as a result of your illness during your stay. Covered are costs within the limits of involuntary extended accomodation.

(*) close relatives are defined as spouse (or registered partner or partner living in the same household), children (step children, children-in-law, grandchildren, foster children), parents (step parents, parents-in-law, grandparents, foster parents), siblings and brother-in-law/sister-in-law of the insured person - in case of a registered partner or partner living in the same household, additionally his/her children, parents and siblings.

However, there is no cancellation cover
• if you cannot or do not want to start the travel because you are worried about an infection due to the increasing number of cases at your holiday destination,
• if you cannot or do not want to start the travel because you are classified as a risk patient,
• if the hotel cannot (any longer) provide its service (e.g. in case of closing the hotel by official decree or the hotel is located in an area of level 5 or 6 travel warning),
• if you cannot start the travel because you are placed in quarantine due to a suspected case (e.g. in kindergarten or among your colleagues) without having symptoms of the disease or having tested positive,
• for costs taken over for mere quarantine accommodation. As before, our premiums do not differentiate between risk patients and non-risk patients, and, as before, we do not introduce any age limits.

Inquiries and availability We kindly ask you to mail all inquiries, in particular those concerning coronavirus and insurance coverage, directly to corona(at)europaeische.at
For all other cases (not covered by insurance HOGAST) we will apply the following cancellation fees :

Cancellation 1 month prior to your arrival: no cancellation fee.
Cancellation between 1 month and 1 week prior to your arrival: the prepayment will be charged as cancellation fee
Cancellation less than 7 days prior to your arrival: 90% of the total sum of your booking
In case of late arrival or early departure the whole booked period will be charged.
For appointments for beauty treatments in our wellness area that are not cancelled in time, the cancellation fee is 100% of the treatment's price.
Tourist tax
A local tax has been introduced in South Tyrol from 1st january 2014. The local tax will be collected from all lodging establishments, on a per-guest and per-overnight-stay basis. The amount is € 2,50 per person and day.
Important information: from 01.01.2024 the local tax is € 3,50 per person per night.
Children and adolescents under 14 years of age are exempt from levy. The local tax is payable only upon departure and is charged extra.
Means of payment
Your hotel bill can be paid in cash up to a maximum of € 4.999 (only valid for EU citizens), VISA, Mastercard and cash card/ debit card.
Travel cancellation insurance
There can always happen something shortly before starting a trip. With our trip cancellation insurance you are financially protected. In case your holiday has to start later, has to be interrupted earlier than originally planned, or you cannot start your trip at all, cancellation fees can be taken over. In order that you have no unnecessary fees, we recommend to buy the HOGAST trip cancellation insurance, so that those costs will be taken over by HOGAST travel insurance.
That's why we recommend: HOGAST TRIP CANCELLATION INSURANCE
Additive Voucher
Subscribing to the newsletter gives you a value voucher as a gift to be used during your stay at the Almhof Hotel Call:
it is valid for stays of at least 3 nights
it cannot be combined with other discounts, vouchers or offers
it cannot be combined for the same room with other Additive Vouchers (even for other people linked to the same room booked)
it is possible to use only one Additive Voucher per room